An Exclusive interview from Mr.Satish Chamyvelumani, Business Head of CHUK.
Paper Desk : Could you let us know the history of Pakka Limited?
Satish Chamyvelumani : Pakka Limited (formerly known as Yash Pakka Limited) is a pioneer of sustainable packaging in India. It was started in 1981 by KK Jhunjhunwala as Yash Papers Limited (former name); the company has evolved from being a global manufacturer of machine-glazed varieties of paper to a sustainable packaging solutions provider. With a legacy of over four decades, the business manufactures compostable flexible paper packaging from sugarcane waste – bagasse.
The Ayodhya-based 40-year-old company took a big shift in 2019 under the leadership of Ved Krishna, its Strategy Head. Yash Papers rebranded itself as Yash Pakka and transformed from a pulp and paper company to a sustainable packaging company. The company further diversified its offerings into paper, moulded products, and flexible packaging categories and is now known as Pakka.
At Pakka, the team innovates to solve environmental problems. Thus, keeping innovation at its core, Pakka launched Chuk in 2017, a compostable tableware brand for serving food. Chuk products are toxin-free, lightweight, modular, microwaveable, and strong enough to prevent leakage.
Pakka's commitment to sustainability extends to its processes, generating 100% biomass-based energy and sourcing raw materials locally. Its 8.5 MW plant and recovery of manufacturing chemicals exemplify this commitment. Collaborations with global entities underscore Pakka's focus on R&D and innovation. The company has signed an MoU with various sugar companies in Guatemala, and thus kicked off its new manufacturing unit of 400 tonnes daily to expand its reach into Central America.
Recognized as a top environmentally sustainable company by B-Corp, Pakka aims to double production capacity by 2023 and emerge as a global leader in compostable food packaging by 2025.
Through its unwavering dedication, Pakka Limited envisions a cleaner, plastic-free future, leaving a lasting positive impact.
"Pakka's commitment to sustainability extends to its processes, generating 100% biomass-based energy and sourcing raw materials locally"
PD : What are your company's mission & vision?
SC : Our Vision: Global leadership in regenerative food packaging by 2030. Mission: We are working on transforming the food packaging and food service landscape by providing compostable alternatives to contribute towards a cleaner planet.
Every individual in Pakka strongly lives by the five key values of the organization:
Earth Love: Our actions are determined by our love for Mother Earth. Trust: We build trust with radical transparency and honesty. Excellence: We consistently learn and build our competency to strive for excellence. Courage: We speak our minds and work with courage towards freedom and responsibility. Diversity: Different is beautiful. We embrace and encourage diversity.
Pakka Limited envisions leaving behind a cleaner planet for future generations by providing compostable packaging solutions. They aim to replace single-use plastics and Styrofoam by providing better alternatives. By driving innovation, promoting responsible consumption, and fostering partnerships, Pakka aims to redefine packaging as a force for positive change.
Through its endeavors, Pakka envisions a future where packaging harmonizes with nature, contributing to a healthier, sustainable, and plastic-free environment for future generations. Pakka is working towards creating alternatives for single-use plastic, which is the need of the hour, considering the growing plastic pollution on the planet. We are working towards a cleaner planet by using bagasse as the main raw material for packaging solutions. To meet our rawmaterials requirements we source bagasse from sugar mills within a 200-km radius of our factory.
"Pakka aims to double production capacity by 2023 and emerge as a global leader in compostable food packaging by 2025"
PD : Your products for this segment of eco-friendly packaging consuming market?
SC : Our products made from bagasse include bowls, plates, small and large containers, meal plates, cutlery, and a party caddy consisting of 6 inch Plate, 140 mm Spoon, 1 ply Tissue – 30 cm x 30 cm, a total of 36 packs. They cater to all needs of the FSB segment and also customers who want to use disposables for hosting events, parties, etc. More products are in the offing and will be launched soon.
PD : What is your product Chuk and could you explain more about this?
SC : CHUK, founded in 2017 in Ayodhya, is a revolutionary tableware brand dedicated to creating a greener planet. Our products are 100% compostable and biodegradable, crafted from sugarcane pulp to offer toxin-free alternatives. Our unbleached, eco-friendly, and hygienic range of single-use solutions, including plates, bowls, containers, and delivery options, is designed to transform the catering and food ecosystem into an environmentally conscious realm. Each of our FDA, ISO, and CIPET-certified offerings boasts exceptional utility, being microwaveable, ovenable, and freezable. This dynamic modularity sets CHUK apart, making our products globally recognisable and suitable for various uses. We stand on the robust foundation of our parent company, Pakka Limited, which holds over 40 years of expertise in compostable pulp and paper manufacturing.
Our primary target audience includes players in the catering and food industry, such as quick service restaurants (QSRs), cafes, hotels, food festivals, and institutional catering. CHUK serves as a single-stop solution for all compostable disposable needs. Not only do our products offer a crucial first step towards sustainability, but they also provide significant cost savings for small and medium-sized enterprises (SMEs). By eliminating labour, cleaning, and washing expenses, our solutions contribute to water conservation and preserving water bodies, as harmful chemicals are eliminated. Our products decompose into compost within 180 days, making them an eco-friendly alternative for responsible waste management.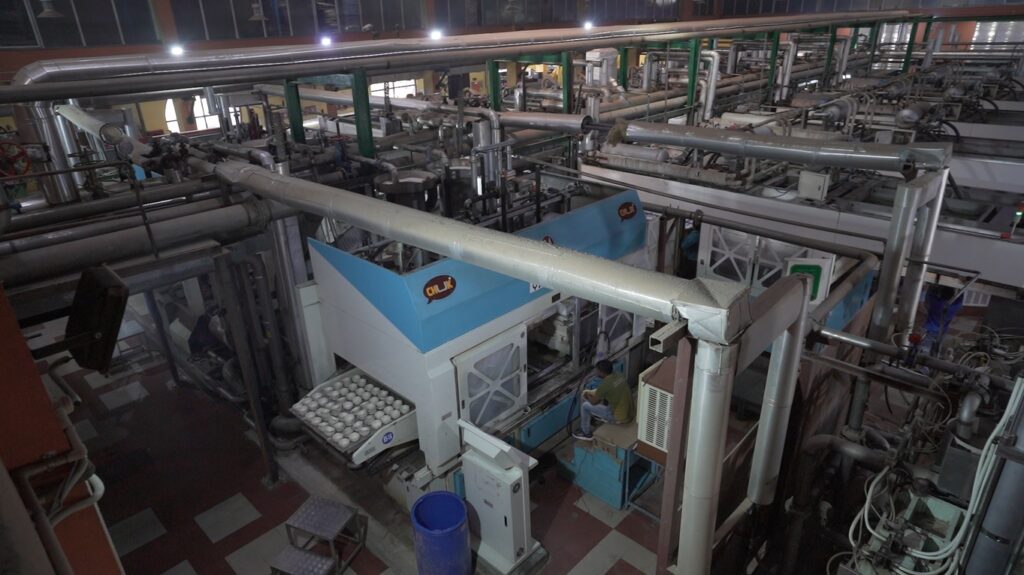 PD : Technical features of your Manufacturing in India and overseas for these ecoware products.
SC : Pakka Limited uses 100% sugarcane agri-residue, or bagasse, as its raw material, embodying a commitment to sustainability. However, this raw material contains natural impurities like pith and lignin. Pith extraction is accomplished through depithers, while lignin, which hampers fiber binding, is eliminated in the pulp mill. This yields purified natural pulp, which is subsequently shaped into compostable tableware via advanced automatic and semi-automatic thermoforming machines, showcasing Pakka's innovative and eco-conscious approach.
We are among the leading exporters of compostable bleached and unbleached kraft paper to the overseas market. As we serve different countries and customers, the requirements vary, mainly in terms of shade and properties of the paper. For example, in Saudi Arabia, we supply darker brown kraft paper for the end use of bakeries, but in Bahrain, the same grade of paper with the same properties is supplied in golden shade for the same end-use. We are flexible based on our customers's requirements, which makes us the go-to choice for foreign customers when it comes to compostable food packaging solutions. We're also open to customizing the properties of the paper as much as possible, as long as the strength of the material is not impacted.
Earlier this year, we started working on our first overseas plant – a compostable molded fiber and flexible packaging facility in Guatemala. The expected capacity of the new plant is approximately 400 TPD. Our vision of a cleaner planet will happen through scaling regenerative packaging solutions. This is a step in that direction. So far, we have served primarily India, Middle-East, and Far East through our manufacturing facility in Ayodhya. here are some customers in Europe as well. Through the facility in Guatemala, we plan to cater to the compostable packaging demands of North America.
PD : Do you have any complete eco-friendly & modernized plants?
SC : The company is actively working on multiple fronts to achieve its goals to reduce carbon footprints. One of the significant steps taken early in our journey was transitioning to an independent power supply for our manufacturing process, thereby going off the grid.
The carbon footprint of our tableware print is extremely low at 0.001 kg CO2e per piece. This is 1310% less than plastic, 8733% less than plastic-lined paper-based packaging, and 5406% less than Styrofoam packaging. We are committed to net zero emissions. Our products are certified home-compostable and FDA-approved for food safety. Another crucial focus area for us is water conservation. Huge investments and various efforts have been made to conserve water within our factory premises. As a result, our water withdrawal has been reduced by nearly 30%. This reduction has had a dual impact: it has decreased the amount of treated water released into streams and lowered the overall water consumption at the source. Year after year, this remains one of our top mission objectives. For the efforts in this direction, Pakka was awarded Noteworthy Water Efficient Unit by CII in 2022.
We adopt environment friendly practices in manufacturing, minimizing and targeting high levels to reduce and reuse water. We are continuously adopting new technology to control gaseous emission norms. Our factories are powered by an 8.5 MWh power plant powered by 100% rice husk-based biofuel. Additionally, the compostability of our packaging products automatically makes us more carbon efficient. Furthermore, we have achieved a complete 95% chemical recovery in our manufacturing process to reduce waste to a bare minimum.
PD : How have UN SDGs guided CHUK's effort in reducing carbon footprint?
SC : UN SDG goals are a beacon for addressing contemporary societal, economic, and environmental challenges. For CHUK, aligning with the SDGs is not just a choice but a necessity that aids in generating positive socio-environmental impacts. This alignment enhances our commitment to sustainability, equity, and socio-environmental justice while fortifying our brand resilience in the face of climate and social shifts.
By incorporating the SDGs into our strategies, we identify areas of meaningful contribution, reinforce our environmental and social performance, and differentiate ourselves from competitors through
clear communication of our sustainability commitments. Furthermore, this alignment positions us favourably in the era of conscious investing, boosting our competitiveness and spotlighting our sustainability maturity. We embark on this journey by identifying relevant goals, setting quantifiable targets, engaging stakeholders, and reporting our progress through tools like sustainability reporting, stakeholder engagement, and impact assessment. As we take these strides towards a more sustainable future, CHUK aligns its core values with the overarching goals of global sustainability.
PD : What are some proven methods that CHUK uses and can be used by other businesses to reduce carbon footprint?
SC : At CHUK, we draw strength from the legacy of our parent company, Pakka Limited, which boasts of over 40 years of expertise in pulp manufacturing. Our primary focus rests on serving the diverse needs of players within the catering and food ecosystem, ranging from quick service restaurants (QSRs) to hotels, cafes, and food festivals. To tackle our carbon footprint head-on, CHUK employs an array of proven methods that set the bar for sustainability in the industry. One of our pivotal achievements has been transitioning to an independent power supply for our manufacturing process, liberating us from the grid and decreasing our reliance on conventional energy sources. Furthermore, our commitment to water conservation has led to substantial efforts and investments to minimise water consumption within our factory premises. This focus has resulted in a remarkable 30% reduction in water withdrawal, significantly decreasing the amount of treated water released into streams and lowering overall consumption.
While there are significant efforts being made to increase wateruse efficiency, the pulp industry is highly water intensive. Efficiency measures are therefore the need of the hour. Process measures, such as dissolved air flotation (DAF) for process water clarification enhancement, the re-use of water used in the process instead of freshwater for chemical additive injection/dilution, and the capture of evaporated water from the pulp, can help reduce water consumption. Total Water Footprint of CHUK in FY 22-23 amounted to 49705.53 KL. Water footprint is accounting for Blue Water used in the CHUK manufacturing processes. Water intensity of CHUK in FY 22-23 amounted to 24.64 KL/MT Embracing sustainable practices in our manufacturing process, we prioritise the reduction and reuse of water, adhere to stringent gaseous emission norms, and power our factories with an 8.5 MWh rice husk-based biofuel plant. Our commitment to minimal waste is evident through our achievement of 95% chemical recovery in our manufacturing process and successful trials for black liquor viscosity reduction, enhancing the efficiency of our production.
As a brand that aspires to lead by example, we have embedded environmentally conscious practices into our business strategies. The inherent compostability of our packaging products not only makes us carbon-efficient but also contributes to reducing waste. On the horizon, we are actively engaging in projects that foster business collaborations and growth, all while ensuring that our actions resonate with our core mission of creating a sustainable future for generations to come.
PD : How can India achieve Net Zero and what kind of private and public sector collaborations would be required for the same?
SC : Given Pakka's (CHUK's) core mission of driving environmental sustainability, achieving Net Zero is our paramount goal. To accomplish this nationwide, India must embark on a multi-faceted approach that involves both the private and public sectors working in synergy. Waste management and circular economy initiatives can drastically cut emissions. Public-private partnerships can establish efficient waste collection for ensuring complete waste recycling and compostability. Private enterprises, like CHUK, can lead the way by producing compostable products that contribute to waste reduction and support a circular economy. In essence, achieving Net Zero requires a concerted effort from the private and public sectors. Collaborations that align interests, combine resources, and share expertise are essential to create a sustainable and resilient future for India and the planet.
The most important contribution from the Government is to spread awareness about compostability, which is what will lead us to net zero emissions. There are multiple companies that are working in various directions, and it is important for the customer to understand the right path to a cleaner Earth. Plastic packaging amounts to 3.6% or 1.8 billion metric tonnes of all the plastic pollution that is there in the world. We need to bring in better reforms and the Government should also play its part. A small example is that sugarcane bagasse is taxed at 12% while various other agri raw materials are tax-free.
PD : How does CHUK plan to continue adding to the sustainable ecosystem of the country?
SC : To propel our commitment to a sustainable ecosystem even further, CHUK is charting a comprehensive future strategy spanning various aspects of our operations. In electricity consumption, our roadmap involves adopting biomass-based electricity for a continuous year. This transformative shift will reduce reliance on fossil fuels and harness renewable energy sources. Additionally, our strategy focuses on precision through tracking and market mechanisms, optimising energy use, and minimising waste generation. Addressing operational waste, our strategy embraces innovation. We're introducing a Lime Recovery System that converts lime waste into valuable mineral bags, minimising waste and promoting resource efficiency. Monitoring and tracking waste generation align with our tracking mechanism adoption, providing insights to optimise waste management. Innovative solutions like methane extraction from wastewater for renewable energy and repurposing sludge into egg trays exemplify our commitment to circular economy and environmental sustainability.
Through these future strategies, CHUK is poised to take strides towards a more resilient and sustainable future. By blending technological innovation, adaptation, and a conscientious approach to waste, we envision a greener landscape for future generations.
PD : Could you explain us about your environment management policies?
SC : Pakka is working towards creating alternatives for single-use plastic, which is the need of the hour, considering the growing plastic pollution on the planet. We are working towards a cleaner planet by using bagasse as the main raw material for packaging solutions. To meet our raw materials requirements, we source bagasse from sugar mills within a 200-km radius of our factory. In addition, the plant is self-sufficient for its electricity requirements with two power plants within the factory premises, both of which run on biofuel. Through our CSR initiative Pakka Foundation, we plant over 2 million trees annually. The foundation is actively involved in various pond restoration projects.
PD : May we know that what is the reason behind manufacturing of sustainable products?
SC : Climate change and environmental degradation are inherent risks for the survival of the planet at large. The motivation comes from the onus of responsibility Pakka took to guide sustainability efforts nationally and internationally. Further, the concept of biomimicry, which essentially refers to mimicking the natural cycle of nature, is a resounding motivation. Drawing from it, one of the brand's core philosophies is to upcycle as compared to the trend of recycling. Compostability fits perfectly into upcycled systems.
Going forward, we plan to boost and expand the brand's reach into global markets. To build a sustainable ecosystem, the brand is looking forward to developing meaningful collaborations within the country and across borders. Additionally, Pakka is guided by an environment first strategy that prioritizes environmental impact before other elements. Hence the plan is to keep expanding the current network and base of operations to achieve the primary vision of building a sustainable ecosystem nationally and globally.
PD : How important are QC and R&D for a company and how it is perceived at your units?
SC : When you're making compostable products, quality check is extremely important. Plastic, we must mention, is an extremely durable product and provides the benefits that no other material can match. However, the life cycle of plastic makes it imperative for us to look for other options. It's very important for us to match the endurance of plastic even if we are making products out of agri-residue. Thus, every batch that goes out is passed through a rigorous process of QC, wherein the lots are manually checked so that there is no scope of deviation.
Likewise, one cannot emphasize enough on how important R&D is for us. We're constantly developing new products and experimenting with materials. We have a huge laboratory in Bengaluru and our team of R&D comprises various PhD holders, helmed by Dr. Ramjee Subramanian, who has extensive experience in the field of material science.
"The development is all-round and we're looking to multiply manifold the impact that we're able to make in the next 2-3 years"
PD : May we know about expansion plans of Pakka?
SC : The expansion plans of Pakka, which we have been emphasizing on, align with our plans to boost the performance further. We all dream of a cleaner planet and can make it a reality together. To bring about impact at scale, we must make compostable alternatives to single-use plastic available far and wide.
With this aim, we have signed an MoU with sugar companies for raw materials in Guatemala, and work will start soon on the development of the plant. Compostable flexible packaging and molded tableware will be the primary products we develop at the new location. Simultaneously, we;re also expanding our current facility in Ayodhya by adding a fourth paper machine and increasing the current capacity. Soon, we'll be able to develop some niche specialty paper grades, the first in India, allowing the customers to fulfill their domestic requirements. We're self-sustained in terms of our power requirements and adding a third power plant at the factory.
Also, a new lab is being set up in Bengaluru for our innovation team to make strides in developing compostable packaging solutions for food. The development is all-round and we're looking to multiply manifold the impact that we're able to make in the next 2-3 years.
PD : How do you see the growth of Indian paper industry in near future?
SC : The packaging industry, especially as steered by Pakka, is at a pivotal juncture. While the paper industry holds potential, we recognize that paper alone won't suffice as a replacement for single-use plastics. Our dedication to creating compostable molded fibre products has already set a benchmark.
Now, with our venture into compostable flexible packaging, we're pushing the envelope further.
Being progressive and visionary is imperative in these times. We cannot be complacent, resting solely on our existing capabilities. Embracing innovation and adaptation is essential. We're not just aiming to enhance our product line, but to champion a global movement towards environmental responsibility. Our goal isn't just market leadership; it's planetary stewardship.